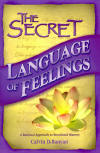 The Secret Language of Feelings
Learn The Secret Language of Feelings and take back control of your life. This secret language is the missing link in human self-understanding. Click on the book cover to read some of this book.
Click here to order the paperback version
















Hypnosis and Hypnotherapy: Basic to Advanced Techniques for the Professional
Get the book at was hailed as an "Instant classic!" It went straight to #1 on Amazon.com for the categories of "Hypnosis" and "Hypnotherapy." This book is a treasure chest of techniques for the professional hypnotherapist. Click on the button below to get your copy now.















Get On the Path and Program Yourself for Success
Audio Program (CDs)
If you have read The Secret Language of Feelings then you know about 7th Path Self-Hypnosis®. Now you can learn and use this life-changing mind-body-spirit approach! This live recording of Calvin Banyan teaching 7th Path™ is available on a set of CDs. Click on the cover to learn more or click on the button below to get your program now!









Please visit our website at http://www.BanyanHypnosisMall.com for more great products like these!.











Click to subscribe to thesecretlanguageoffeelings