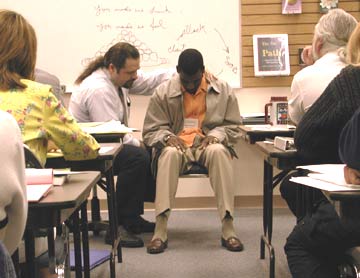 Calvin Banyan is a dedicated husband, parent, hypnotherapist and teacher!
He is the CEO and Supervising Hypnotherapist at his hypnosis center in Plano, Texas.
Calvin Banyan was born in Los Angeles and graduated South Gate High School in 1973.  He graduated from the University of North Dakota with both BS and MA degrees.
As part of his training he worked as a psychologist at the North Dakota State Hospital.  Upon graduation he became a Family Therapist working for Lutheran Social Services.
In 1995, he and his wife Maureen, along with their daughter, Kelsey, moved to Coon Rapids, Minnesota.  He then became certified as a Hypnotherapist through the National Guild of Hypnotists and soon opened the Banyan Hypnosis Center for Training & Services, Inc. (Then called The Hypnosis Center).

Now Calvin Banyan is an internationally recognized hypnotherapy trainer.  He has trained hypnotherapists from across the USA and as far away as Beijing, China, Hong Kong, Singapore, Malaysia, Australia, United Kingdom, India, Brazil, Canada, Denmark, Japan, South Africa, and the list is growing!
Calvin Banyan is an award-winning trainer who was recognized with the honor of being named, Certified Instructor of the Year, and Educator of the Year, by the National Guild of Hypnotists.
He has been published in scientific journals, hypnosis trade journals as well as popular publications.  He now writes for the National Guild of Hypnotists, Journal of Hypnotism.  He has also appeared on radio and television where he talks about hypnosis and "The Secret Language of Feelings."
In 2001 he published his first book along with his coauthor Gerald F. Kein, Hypnosis and Hypnotherapy: Basic to Advanced Techniques for the Professional.
His latest book, The Secret Language of Feelings, was published in 2003.
Calvin Banyan's personal interests include biking, computers, photography and playing bass guitar with friends.
Click Here - Press Kit and latest news releases for Calvin Banyan











Click to subscribe to thesecretlanguageoffeelings