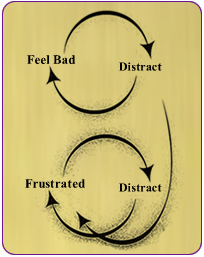 Learn the lessons in this program and you will spend a lot less time feeling frustrated! Frustration is a kind of stress that is unhealthy when you let it go on too long because you don't know what that feeling is "telling you to do."
In this program, you will find how and why frustration develops, and how you can begin to respond to it in a much more satisfying way. Really, all feelings are good when you understand the message in each one. However, if you don't understand The Secret Language of Feelings, this emotion can work against you resulting in feeling ever more motivated to do those crazy things that people do, like eating too much, drinking too much, and so on.
The graphic on the left shows how the feel bad and then distract cycle can lead to frustration.
You will also be introduced to a strange new concept, "normal healthy depression." Yes, depression can be a healthy feeling when you know what the message is. That controversial idea is introduced in this program.
Podcast: Play in new window | Download