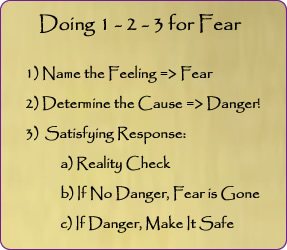 Fear is good when it comes from accurate perceptions. If you don't understand this fact you leave yourself open to dangerous situations, and you are very likely to get stuck in that feel bad – distract cycle.
People don't understand that all feelings are good, so the hurt themselves through distraction.
Imagine how much better you will feel if you could quickly resolve your fears and spend a whole lot less time, almost to time feeling frustrated or depressed. How would that affect your life?

I promise you that you can feel better now. You can overcome bad habits and self-destructive behavior.

This is what has changed. Now, we have The Secret Language of Feelings, a rational approach to emotions that gives you a system that will enable you to feel better quickly.
In this audio program, you lean about how to put an end to feeling fearful unnecessarily, and how to respond to it in a satisfying way. This way, you won't eat too much, drink too much, smoke too much, and so on.
Fear has so many names, including feeling nervous, worried, stressed, and anxious. ear, by whatever name, is there to motivate you to keep yourself, the people you care about and the things that you care about safe. This is all a good thing.
Wouldn't you like to feel fearful less? This is how you can accomplish that. Do 1-2-3 and then you respond to emotions in a satisfying way.
Sometimes this won't work, because you are experiencing Emotional Resonance. You do your Reality Check and you still feel afraid, this means that you are feeling fearful because something in the present is causing an old feeling from the past to come up.
In this session I talk about a case history where one of my clients was able to overcome her shyness (another word for fear) using The Secret Language of Feelings, 5-PATH® Hypnosis and 7th Path Self-Hypnosis® together. As a result her confidence increased dramatically and she was very grateful for the changes that she experienced in her life.
If you find that you are suffering from the feel bad – distract cycle, keep listening to the program and you will learn how to take back control and start feeling better. You might also like to get the book, The Secret Language of Feelings, and if you want to work with a trained professional give our office a call at 714-258-8380. And, as always, you can join in on the conversation by joining our special group on the topic at www.groups.yahoo.com/group/thesecretlanguageoffeelings.
Podcast: Play in new window | Download