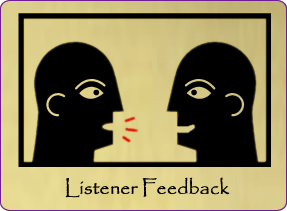 In this episode, "the dialogue has begun," so to speak, in that I respond to some listener feedback. Plus, I talk about the discussion on our Secret Language Of Feelings group on Yahoo.
Then I go a bit farther and share with you some interactions I have had with some other groups on the Internet. It has become very apparent that there is a need out there for people to begin to understand the difference between anger and frustration. I'm doing my best to teach them that:
Anger comes from the perception that things are unfair.

Frustration comes from the perception that what you are doing is not working.

Anger is a primary feeling and frustration is a secondary feeling.
Then I wrap it up with a bit of a discussion about how we can help our children to understand and use the Secret Language of Feelings. This turned out to be a bit of detailed discussion, so you might want to give it a listen two or three times.
What do you think about the difference between anger and frustration? Why do you think people get these two emotions confused? Leave a comment and let me know what you think.
Podcast: Play in new window | Download