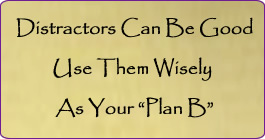 The title of this program is, The Wisdom of Using Distractors as Plan B. In this program I discuss when using distractors would be a good thing to do. Distractors can be an important part of our plan to be happier and more successful.
Listen in, and you will hear all about how to use distractors as Plan B, so that you can delay gratification when you need to.
Remember distractors can be used in a productive way when:
It is not in your best interest, at a particular time, to attempt to satisfying your feelings

You recognize that you are only distracting and not really taking care of the problem.

You recognize that the distractor works best when it is not illegal, immoral or fattening!
Tips on using distractors:
Plan your distractors in advance.

Keep that list with you.

Have distractors for different periods of time, i.e., 5, or 10 minutes, or a half hour to an hour long. So you are ready for different situations.

Just about anything that you think is fun, interesting, or is a growth experience would be a good thing to put on the list (within reason of course).
So, now you will have Plan A and Plan B. Plan A, consists of satisfying your feelings. Plan B, consists of delaying satisfaction through indulging in a distractor (a healthy one of course).
Podcast: Play in new window | Download