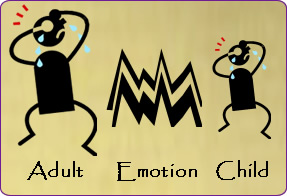 Have you ever overreacted, or have you ever seen someone else overreact? I'm sure that you are very familiar with what I am talking about (unless you live on top of a mountain and grew up in a monastery or something).
Yes, indeed, sometimes people overreact and get too mad or too sad or find themselves being too fearful for a given circumstance. When this happens, these people act in some very immature ways. Today you will learn why that happens. Today you learn about Emotional Resonance!
Stop coping with your feelings! Give up on anger management right now! It really is the wrong way to deal with your emotions. Doing 1 – 2 – 3 does much more.
Understand the principle of Emotional Resonance, and you no longer have to control or manage your feelings. There is hope! You can become one of those individuals who is really "cool, calm, and collected."
Podcast: Play in new window | Download