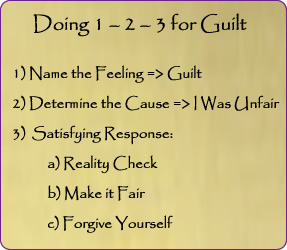 Anger has a twin sister and her name is Guilt. In this program I explain what anger and guilt have in common. There is more than you might think.
It is time to stop coping with your feelings! Sometimes you are supposed to feel bad. Even guilt is good once you begin to understand The Secret Language of Feelings. That emotion, like all of your other painful emotions, is trying to talk to you. There is a wisdom in this language. Learn it, and you will spend a lot less time feeling bad and you will begin to live a life that is a great deal less emotionally painful and much more satisfying at the same time.
Learn how to respond to guilt in a satisfying way and everyone benefits. You benefit, society benefits, and everyone who cares about you benefits.
Enjoy the program. Tell your friends. This information can change a life. Let's get this information out those who can use it the most. Together we can help our friends, loved ones, clients and patients feel much better and begin to lead happier and healthier lives.
Podcast: Play in new window | Download