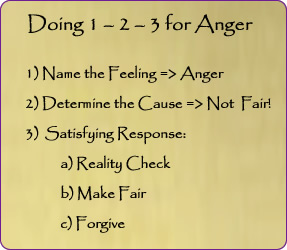 Anger is good. It is what you do with it that is either, good, bad, or ineffective.
In this audio program, I will talk about how to end the, feel bad – distract cycle and take back control of your life. Not only that, I will talk about going far beyond coping with anger. I will tell you why anger is good. Did you know if there were no anger there would be no USA! I explain that statement in the program. There is wisdom in feeling anger once you know The Secret Language of Feelings.
It is time to stop feeling bad about feeling bad, especially when it comes to anger. Anger does two important things. It is there to let you know that you have perceived a situation as being unfair, and to motivate you to do your best to make things fair.
I also discuss what you should do when things are unfair, but there is little or nothing that you can do. Here is a hint, it has to do with the OTHER F-word!
I hope you like this program. If you find that you are suffering from the feel bad – distract cycle, keep listening to the program and you will learn how to take back control and start feeling better. You might also like to get the book, The Secret Language of Feelings, and if you want to work with a trained professional give our office a call at 714-258-8380. And, as always, you can join in on the conversation by joining our special group on the topic at www.groups.yahoo.com/group/thesecretlanguageoffeelings.
Learn how to become a hypnotherapist or 7th Path Self-Hypnosis Teacher by going to www.HypnosisCenter.com.
Podcast: Play in new window | Download