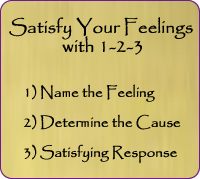 All feelings are good, even painful feelings like anger, sadness, loneliness, fear, frustration and depression. Now, it is time to learn how to respond to these feelings in a way that satisfies the cause of the feeling, leaving us feeling satisfied. Understanding this leads us into a life of feeling much happier and satisfied.
Too many people just don't know how to be happy. As you listen to this program you are going to find the key to happiness and how to stop all of those harmful habits such as eating too much, drinking too much, and so on without ever feeling deprived.
Learn 1-2-3 and you take back control of your life. As you learn from this program and from the graphic on the left, this is a simple three-step process.
First, you need to name the feeling. This is especially useful when you want to stop doing some kind of harmful behavior such as eating too much. If you want to stop doing that, the next time you want to eat something you simply need to check to see if you are really physically hungry. If you are not, then you are having a feeling, an emotion. Name that feeling, and you will realize that there is nothing you can eat to make that feeling go away. For example, if you are lonely, then eating a bag of potato chips is not going to bring someone new into your life.
Secondly, you need to identify why you are feeling that way. Each feeling has a known cause. Each cause-feeling relations ship that you need to know is covered in The Secret Language of Feelings book.
Thirdly, rather than distracting yourself from your feelings, you need to learn to respond in a satisfying way. This is a behavior that will go to the cause of the problem. For example, if you are lonely, calling a friend is a much better plan for removing the cause of your loneliness than eating a bag of potato chips!
I hope you will enjoy the program, and leave us a comment to let us know what you think of the program.
Podcast: Play in new window | Download