Friday, November 30th, 2007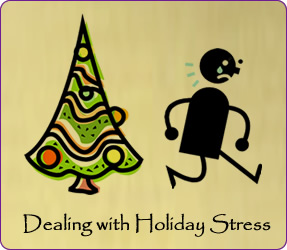 Here is the topic of today, How to Deal with the Holidays and Other "Get-Togethers".
Can you say "stress"!? For many people the holiday season and other social gatherings are very stressful. In this Secret Language of Feelings program I will talk about where some of that stress comes from and how you can respond to it without going nuts (and distracting).
Where does holiday stress come from? The demands of this time of year are many. There are gift buying and money issues, as well as travel and family dynamics as well, just to name of few.
Really there are three contributing factors:
The past – resonating and over responding and avoidance.

The present – real anger, fear, frustration and depression.

The future – paying bills and going back to "real life"
Dealing with it all without distracting involves knowing and using 1-2-3. If you don't do that, then you greatly increase the chance of distracting, and that means too much holiday drinking and eating (or worse)!
Name the feeing

Determine the cause of the feeling.

Plan A – Engage in a satisfying response
Reality Check – This is big!

If the feelings are based in reality respond to it in a satisfying way. This leads to happiness!
Plan B – Distract
Don't do anything that illegal, immoral or fattening
Remember hypnosis can help, especially when you are working with a 5-PATH® trained hypnotist or hypnotherapist. 7th Path Self-Hypnosis® is a great alternative when you cannot see a 5-PATH® hypnosis professional.
Now get out there and enjoy yourself! Ho, ho, ho! ☺
Podcast: Play in new window | Download